New fan candid with Kris!
Pens fan, Courtnee shared this photo of her friend and Kris, taken at a local restaurant in Pittsburgh yesterday. It's great seeing Kris out and about and interacting with fans!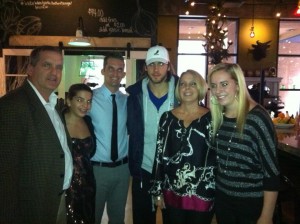 Courtnee: "I asked him about his concussion, he said he is feeling ok but can't practice until all symptoms are gone! Same old stuff we have been hearing."
Thank you so much Courtnee for sharing this photo and your experience with KrisLetang.org!