2 Assists for Kris Letang; Pens beat Canes 8-3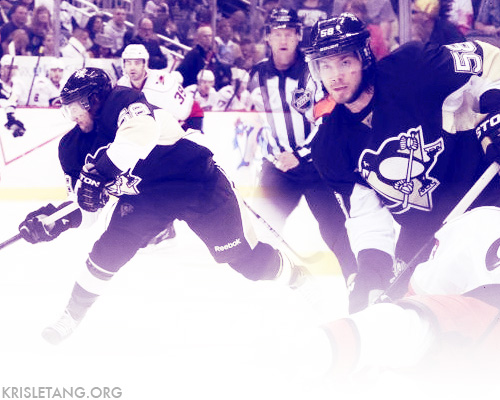 An explosive third period put a nice bow on one of the best regular seasons in Penguins history, as Pittsburgh powered past the Carolina Hurricanes with a 8-3 victory Saturday night at CONSOL Energy Center.
It seemed to be either team's game to win with the score tied at three at the beginning of the third period, but two straight blistering James Neal goals, followed by insurance goals from Brenden Morrow, Matt Cooke and Pascal Dupuis, blew the game open and sent the fans home happy on Fan Appreciation Night.
The Penguins' eight-goal output was their highest mark of this remarkable season. The outcome should go a long way in erasing the bad taste of losing consecutive games while sending them into the playoffs firing on all cylinders.
"We came out with that real strong third period," Penguins coach Dan Bylsma said. "In addition to that, I thought the special teams, power play and penalty kill, were on for detail and were doing their thing. Both of those things we were hoping for in this game." – Continue Reading Endgame
Media Links:
Post Game: Coach Bylsma
Post Game: Marc-Andre Fleury
Post Game: James Neal
Post Game: Chris Kunitz
Post Game: Jussi Jokinen
Post Game: Paul Martin
Post Game: Brenden Morrow
Box Score
Game Recap
Videos
Photo Gallery
Penguins end regular season on high note by crushing Hurricanes
Read more: http://triblive.com/sports/penguins/pensgalleries/3889410-74/penguins-malkin-game