Kris Letang shares some similarities with Chara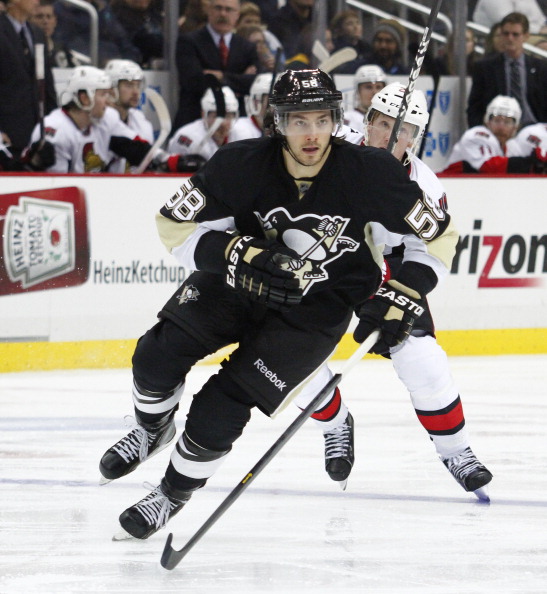 By Chris Adamski – NHL.com Correspondent
PITTSBURGH — Considering Zdeno Chara is 10 years his senior and already has a Norris Trophy on his resume, Kris Letang could learn a lot from the Boston Bruins captain. Indeed, the Pittsburgh Penguins defenseman looks up to his counterpart — literally and figuratively. But in giving up 9 inches and more than 50 pounds to Chara, there are some things Letang simply can't emulate. "He's a guy who's going to use his body to defend and be physical and be tough to play against," Letang said Friday. "I don't have that in my bag."
Put them side-by-side on the ice, the 6-foot, 201-pound Letang and the 6-foot, 9-inch, 255-pound Chara figure to have little in common. But each is among the best in the world at his position, and in that respect the two blueliners might as well be twins.
"Aside from the obvious differences, they're pretty similar — in the way they control the game, the minutes they play, the situations they play in," Penguins defenseman Matt Niskanen said. "He's their best player on their defense and [Letang] is our best player on the back end. They're both outstanding defensemen."
Letang is a Norris Trophy finalist this season, attempting to win it four years after Chara claimed the honor. After tying for the regular-season scoring lead among defensemen with 38 points in 35 games, Letang is tied for second in Stanley Cup Playoffs points among all players with 16 points in 11 games.
Chara ranks second among defenseman in playoff points with 11 and the pair each has a plus-7 rating, tying them with Letang's Penguins teammate Paul Martin and Slava Voynov of the Los Angeles Kings for the best plus/minus rating among playoff defensemen.
"It's tough to compare them — two totally different types of players," Penguins forward Jussi Jokinen said. "But both are among the top five defensemen in this League this year, no question."
Just as Chara sometimes doesn't get recognized for his play in the offensive zone, Letang often is shortchanged as merely an "offensive defenseman." But as their ice time proves (each is averaging more than 27 minutes per game in the playoffs, among the top four of any player), Letang joins Chara as someone who's trusted in any situation.
"Kris doesn't get a lot of notoriety for his defensive game," Penguins coach Dan Bylsma said. "With the way he skates, the way he moves the puck, he's more viewed as an offensive guy. But if you overlook his defensive play and how he can play defensively against the other team's good players, you're really overlooking a part of his game as well."
Letang also plays critical roles on the Penguins' power play and penalty kill. He is the team's primary puck-carrier in the transition game and is arguably its best passer in the neutral zone.
Despite his size compared to the League's other top defensemen, Letang isn't afraid to throw his weight around. Teammate Brooks Orpik is considered among the League's hardest hitters and leads Pittsburgh defensemen with 24 hits in the playoffs. Letang is right behind him with 23. And the Quebec native's frame doesn't prevent him from often providing a net-front, clear-the-crease presence.
"Yes, I can be physical but in the long run, over a grind, in a 30-minute game, let's say, I'm not going to be able to keep up with a guy who's the size of [Boston wing Milan] Lucic," Letang said. "I'm going to play more smart and play in good position and make sure I don't allow them to go to the net."
In that way, as much as Letang admires Chara, he is smart enough to recognize he cannot completely emulate his game.
"There's many things [Chara] does well — he's pretty poised with the puck," Letang said. "He does so many things on the ice that allow him to be one of the best defensemen in the league. Yes, I could try to play like him and be physical like him, but I can't be him."
Then again, Chara can't be Letang either. There probably isn't a 6-foot, 9-inch man on the planet who is as smooth on his skates, slick with his stick and shifty with the puck as Letang is.
Still, as Letang pointed point, Chara has skills that belie his size, which he showed on a highlight-reel spin-o-rama goal he scored earlier this season.
"He's a big man," Letang said, "but he can move really well and is pretty mobile."
Just like Letang can be pretty physical despite being a relatively smaller man.
"They do contrast each other, they do look different and they have different skill sets," Bylsma said. "Kris is a little more offensive then Zdeno and [Chara] is more imposing than Kris is physically. But they're both guys who log a lot of minutes and play in every situation for their teams and are big factors for their teams in those situations, so I kind of like the comparison."
One other attribute Chara and Letang share: Each is counted on to play a crucial role if his team is to advance to the Stanley Cup Final. While this series features an abundance of star power up front, the play of these two marquee defensemen for their respective teams could very well decide which team wins.
In that way, Letang and Chara are very much alike.
"They both play all situations; that's the one similar attribute that they share," Orpik said "I don't see a ton of similarities there other than, obviously, they're both really good at what they do."