Kris Letang is the 2nd star of the game, Penguins beat the Lightning in overtime!
What an exciting game! It was intense game with the tempo settling down in the 2nd period, with each team's defense holding the other and both goalies were fantastic. With the game tied in the 3rd, it did go to overtime, with the Penguins winning on a Sidney Crosby goal. Kris had a good game with 7 shots, 2  hits, 2 blocked shots, and lead the team in ice time with 27: 56.
He also was the second star of the game!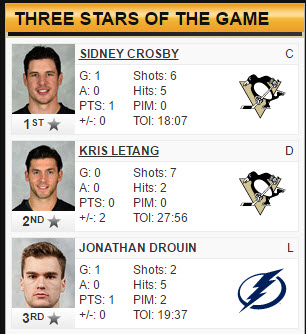 Game Media:
Game Recap
Box Score
Infographic
Photo Gallery
In-Game Blog
3 Impressions
Post Game Interview: