Today's Pens Report!
Following practice the players participated in a "team building" session. The team was run through some West Point drills by JB Spizzo.
Kris was carrying Chris Conner (I think?) with fellow teammate Chris Kunitz – you can view the gallery with more pictures from practice by clicking the image!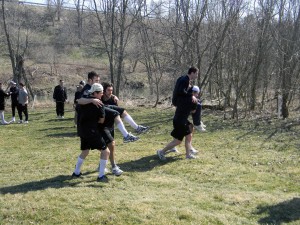 And from a Post-Gazette Article:
Penguins Notebook: Letang had test for head injury
BOCA RATON, Fla. — As Penguins center Sidney Crosby was taking the ice Monday as a step in his long recovery from a concussion, teammate Kris Letang was being tested for the same injury.

Letang took a leveling shot to the chin from Edmonton's Gilbert Brule in a 5-1 win Sunday. General manager Ray Shero confirmed Wednesday at the league GM meetings, that the day after that hit, Letang took a neurological test to be compared with an earlier baseline test. He passed and then played in a 5-1 win Tuesday at Ottawa.
Read more: http://www.post-gazette.com/pg/11076/1132574-61.stm#ixzz1GtqXiIFr