Video helps Letang find Norris-worthy form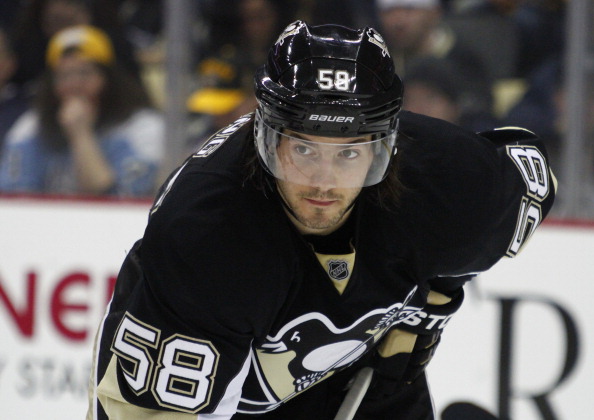 PITTSBURGH
— Ask Kris Letang to handicap the Norris Trophy race he is very much a part of and he clams up.
"You guys [in the media] think about it," the Pittsburgh Penguins defenseman said after a recent midweek practice. "I don't."
One thing Letang does think about, though, is what qualities he evaluates in the best defensemen.
Don't bring up Letang's chances of winning a Norris if an answer is desired. But ask him what he thinks a Norris winner should play like and he opens up.
"You have to measure the way the guy played defensively, if he plays against tough lines every night, if he's a guy that is used in every situation," Letang said. "There's a lot of things you evaluate.
"I don't think you can measure that just on statistics."
Too bad for Letang, because solely judging by the points, he is having a season unmatched in the NHL.
Despite having a six-game assist streak snapped in a 3-1 win against the Toronto Maple Leafs on Thursday, Letang's 28 points lead the League's defensemen by a wide margin (Ryan Suter is second with 23). Letang's 25 assists are four more than second-place Suter — and Letang has amassed these numbers despite missing three games because of injury.
Letang also is among the NHL defenseman leaders in plus-minus (tied for sixth at plus-12) and ice time (sixth, 26:15)
"Everybody sees his numbers, which have been awesome," Penguins goalie Marc-Andre Fleury said. "But he also always comes back hard in our zone, and he's been playing hard at both ends of the ice. I'm glad to have him our side."
Whether Letang wishes to acknowledge it or not, he's at the forefront of the Norris race with about six weeks left in the regular season. Sunday, for the second time in a six-day span, Letang will be on the same ice as one of the other Norris front-runners when his Penguins play host to Zdeno Chara's Boston Bruins (12:30 p.m. ET, NBC).
On the surface, their games couldn't appear to be much different — 6-foot-9 Chara is seemingly unbeatable in his own zone, and his laser shot is how he contributes offensively. Letang, as 6-foot, produces points in bunches (13 points in eight games during March) and is known for his swift skating and puck-carrying abilities.
But in terms of what Chara and Letang offer their teams, it really isn't all that different. League scoring leader Sidney Crosby benefits from Letang's play every night — and he has to deal with Chara during virtually every shift when he's playing the Bruins.
"You look at the minutes Chara logs and the minutes Letang plays, it's hard to imagine being able to do that every night — let alone at the level they're doing it," Crosby said. "It's not easy, and they both carry the puck well. Chara, for his size, obviously probably doesn't get up and down the ice like [Letang] does, but he can still show flashes with pretty good hands and pretty good agility.
"They're both elite defensemen, and I think the main thing is they both bring that sense of calm back there. Whether they're carrying the puck or shutting a guy down, they just really stabilize the defensive corps as a group."
When people think of the trustworthy, above-the-fray, always-makes-the-smart-play qualities of the best defensemen, Nicklas Lidstrom is one of the names that immediately comes to mind.
Letang studies film with Penguins defensive assistant coach Todd Reirden. Sometimes the focus will be Letang's most recent game or games, or even Pittsburgh's play as a unit and how Letang has been fitting into it; other times, the film study is more of a case study.
"We try to pick different attributes other defensemen have," Letang said.
It should come as no surprise that a frequent star of the film sessions is Lidstrom, the former Detroit Red Wings captain who retired after last season after winning seven Norris trophies.
"He was a really good power-play guy, a really good PK guy, and 5-on-5 he was really calm with the puck," Letang said. "He was passing the puck really well, waiting for opportunities to come to him. That's the thing that we were looking at, the way he moves his feet — he never got caught out of position."
Though Letang is often thought of as an "offensive defenseman," he despises that label. He averages 2:23 of shorthanded ice time per game, and coach Dan Bylsma invariably has him on the ice late in games when the Penguins are protecting a one- or two-goal lead.
"His decision-making with the puck has been very good," Bylsma said. "I've noted with him the maturity in his decision-making with the puck."
Suter, the Phoenix Coyotes' Oliver Ekman-Larsson, and some others have candidacies that will warrant strong consideration, but the Chara vs. Letang Norris Trophy debate is an intriguing one.
Just ask the Hart Trophy front-runner whom he'd vote for between the two.
"I wouldn't want to be the one having to decide that," Crosby said with a smile.
"They both bring some different things, but they're both really important."
Chara won the Stanley Cup with the Bruins two years ago. He was named the Norris Trophy winner in 2009 at the NHL Awards show in Las Vegas that happened to take place six days after Letang hoisted the Stanley Cup at Joe Louis Arena in Detroit.
To hear Letang tell it, if that scenario plays out again this summer, he'd gladly take it. He doesn't like talking about his own Norris candidacy, remember?
"You brought it up, so …," Letang said this week. "It's an individual honor, but I think the best thing — the biggest thing — is to win the Stanley Cup."