Penguins win eighth in row with shutout of Rangers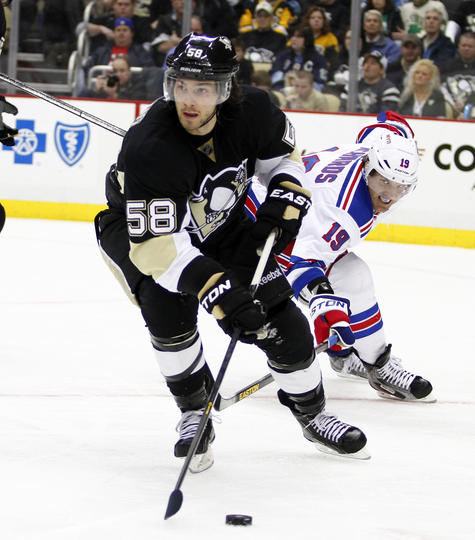 TK AND DJ
It seemed like Kennedy was just due for a goal the way he was playing on Saturday. He was flying all over the ice and his speed was giving the Rangers issues, as he kept getting steps on their D and helped create a couple of odd-man rushes as a result.
Kennedy drew a penalty on one of those said odd-man rushes, as he got behind defenseman Anton Stralman and was tripped on his way to the net. Kennedy was fittingly rewarded on the ensuing power play when he ripped a shot past
Rangers goalie Henrik Lundqvist with 13:26 left in the third to give Pittsburgh a 2-0 lead.
"I was trying to cut to the middle there and he kind of got a stick up in my skates and I fell," Kennedy said. "It was a great pass by (Kris Letang) and I'm glad I got it in."
Kennedy also got an assist on Bennett's first-period goal, giving him his first two-point effort of the season.
"I felt pretty good," Kennedy said. "I'm just trying to play hard and keep the tempo."
Jeffrey also got his first two-point effort of the season as he finished with a pair of assists, and Kennedy pointed out his effort this afternoon as a big one.
"Whenever the whole team's getting points it's always what makes a strong team," Kennedy said. "I'm happy for Jeffrey. I think he works hard and he deserves it. It's nice to see." >> Continue Reading <<

Media Links
Game Recap
Box Score
Videos
Photo Gallery
Post Game: Marc-Andre Fleury
Post Game: Tyler Kennedy
Post Game: Pascal Dupuis
Post Game: Beau Bennett
Post Game: Coach Bylsma
Pens-Rangers Game Blog
Photos